The UConn DMD Digital Experience Lab represents the combined creative output of numerous faculty and students in the UConn Digital Media & Design department (DMD). With logistics and support provided by the UConn's Center For Open Research Resources and Equipment, our team explores UX Strategy & Design, Modern Web Development, and Emerging Technology to produce unique digital work that addresses real-world  problems.
We're led by DMD Professors Brian Daley, Joel Salisbury, and Michael Vertefeuille.
This year, through the challenges of the COVID-19 Pandemic, DX Lab faculty and students addressed numerous unique UX Design, Web Development, and Visualization challenges in support of researchers across the University.
Here's a quick look at what we've been up to. We'll be adding to this when we get time!
Tree Sway Monitor, Interactive Museum Installation
In late 2019, we were approached by Amanda Bunce, a Forest Management Researcher in the College of Agriculture, Health, and Natural Resources, to help bring her vision to life for Weather Report at The Aldrich Contemporary Art Museum in Ridgefield CT. Our student developer, Renoj Varghese (BA '19, MFA '21) developed a windows application (Javascript/NodeJS) and web app to visualize, realtime, the readouts from a tree sway sensor provided by Amanda. Allie (BFA '20) designed the UI. Amanda installed a sensor on a young White Pine tree outside The Aldrich. Mike and Joel installed the monitor setup inside the museum, connected to the sensor outside. The installation ran for the duration of Weather Report.
This project involves large format installations, 2D/3D interactive design, Javascript Programming, and the Internet of Things.
The Aldrich Contemporary Art Museum, Weather Report
Partner: Amanda Bunce
UX Director: Joel Salisbury
Technical Director: Michael Vertefeuille
UX Design: Allie Marsh
Web Development: Renoj Varghese
COVID-Testing.UConn.Edu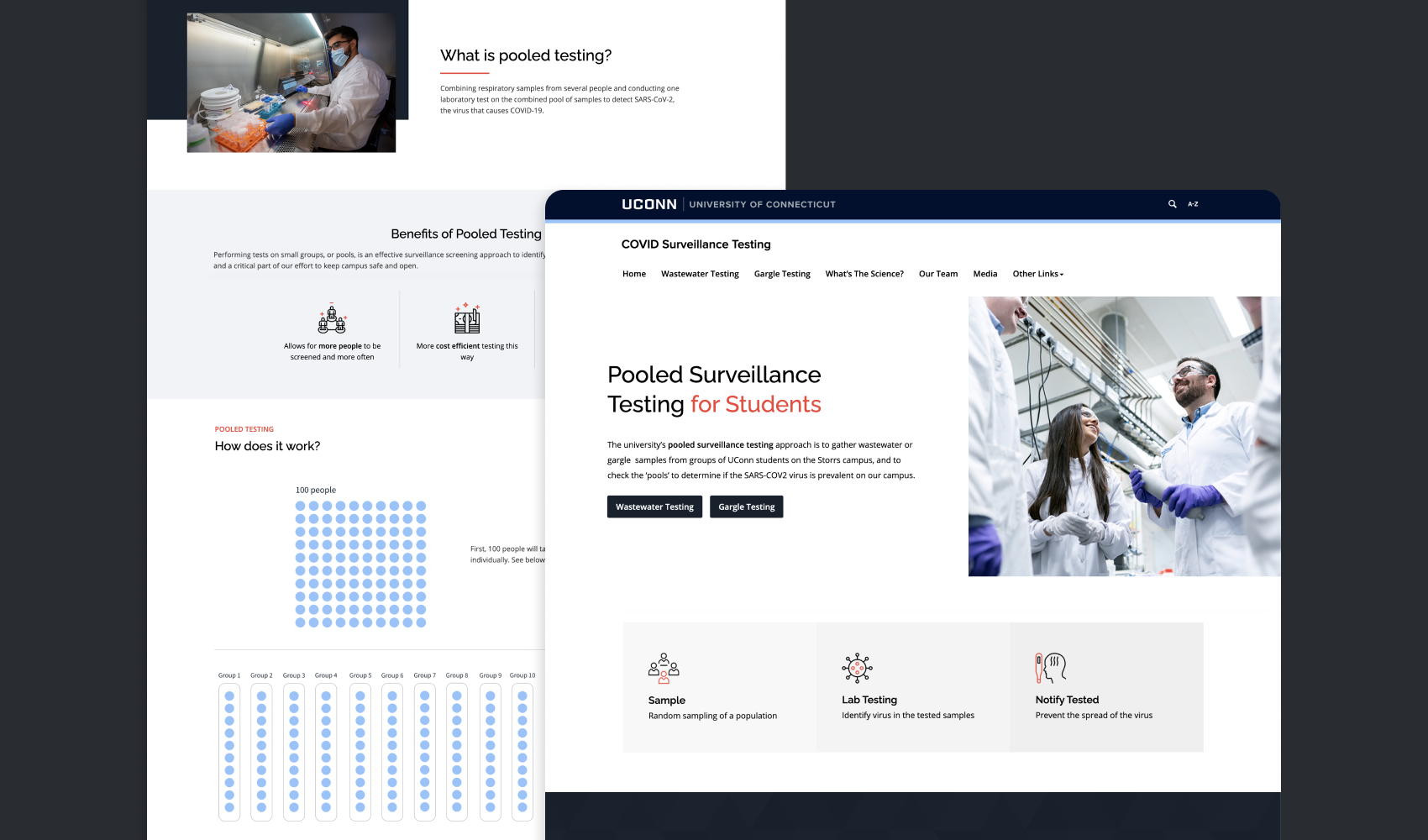 Along with the Institute for Systems Genomics and PI Dr. Rachel O'Neill, Co-PIs Joel Salisbury and Michael Vertefeuille received an award from UConn's COVID-19 Rapid Seed Funding (COVID-RSF) Program for creation of a website and dynamic dashboard to showcase the University's response to COVID-19 titled "An Integrated Surveillance Program for Improved Detection, Containment and Mitigation of COVID-19." We pulled in Emily Ha, Undergraduate UX Researcher, to lead the design. Naturally, we had to tap Brian Daley, one of our directors, to get us over the finish line.
Co-PIs: Kendra Maas, UConn MARS; Joel Salisbury, Digital Media and Design; Michael Vertefeuille, UConn Digital Media and Design; Suzanne Onorato, UConn Student Health and Wellness; Mike Jednak, Facilities Operations; Jessica Healthcote, Information Technology Services; Emily Wilson, Center for Land Use Education and Research; Dan Schwartz, COR2E
Website Design & Development: Emily Ha
Dashboard Development: Joel Salisbury (Co-PI)
Devops: Brian Daley
Product Support: Michael Vertefuille (Co-PI)
CT NEMO Rain Garden PWA Development
During Fall '20, we were approached by new friend David Dickson of the CT NEMO Program. CT NEMO maintains Rain Garden App, a FREE PWA (Progressive Web App). Through video tutorials, diagrams, text, and tools, the App guides users through how to properly locate, size, install, plant, and maintain a rain garden to help protect local waterways.
We tasked Harrison Burr (BA '21), undergraduate UX Specialist, who led UX design and PWA development into January '21. Harrision handed off the work to Natalie Lacroix (BFA '21) to push us over the finish line. Tech and UX/Product oversight was led by Brian Daley and Joel Salisbury.
Rain Garden PWA: Information |  App
UX Design: Harrison Burr
PWA Development: Harrison Burr, Natalie Lacroix
Faculty Support: Brian Daley & Joel Salisbury
WellSCAN
Work continues on one of our biggest projects, WellSCAN.
The WellSCAN suite of technology is housed, licensed and serviced by the University of Connecticut Digital Experience Group, and includes the WellSCAN Global nutrition database, WellScan Connect API, and the WellSCAN app.
Based on the latest nutrition guidance from Healthy Eating Research, and research from the UConn Rudd Center on Food Policy & Obesity, WellSCAN is a suite of digital tools aimed at helping food banks and pantries better identify and report on the nutritional quality of their inventory.
This project has been made possible by support from Partnership for a Healthier America, Feeding America, The Claneil Foundation and the Robert Wood Johnson Foundation.
Emily Ha made the awesome website. She and Mahnoor Afteb (BFA, '21), performed the UX Research that informed the app redesign.
Website Design: Emily Ha
App UX Design: Joel Salisbury
PWA Development: Joel Salisbury
UX Research: Emily Ha & Mahnoor Afteb
Upcoming Projects
We're not done! Our 2021 has already filled up nicely, including the following projects:
Stamford Data Science Initiative (Website Design)
Under the leadership of Creative Director, DMD Professor Samantha Olschan, our team designed and built the website for UConn's new Stamford Data Science Initiative. The web design and development was led by Emily Ha with Faculty Support from Brian Daley, Joel Salisbury, and Mike Vertefeuille.
Access2Agriculture PWA Development
Conceived as a pilot project of the United States Department of Agriculture (USDA), Access2Ag is an initiative of Connecticut Resource Conservation and Development (CT RC&D) in which they plan to use their close working relationships with agriculture producers and partner organizations to address the critical need of bringing nutrient-rich and healthy foods to at-risk members of the Eastern Connecticut community. Led by Matthew Mullin (MFA '22) and Joel Salisbury, we are working to develop a PWA (Progressive Web App) for mobile devices to be launched in September 2021. The DX Group is responsible for the design and implementation of the screen content as well as an interactive Access to Agriculture experience through a mobile app accessible through a QR code, as an extension of the bus's on-screen content.
NEMRICS (New England Maritime Research and Innovation Capabilities Study)
The intent of this project is to develop a prototype of a tool that can display all research equipment, infrastructure, and capability owned and operated by academic, industry and government partners throughout New England relevant to the undersea technology ecosystem. In partnership with the NIUVT and supported by DOD/Navy/Office of Naval Research (SEED 29), Joel Salisbury (Co-PI), Mike Vertefeuille, Brian Daley and Matthew Mullin will lead design and development of the research capabilities database. This work will continue through the Summer of 2021.
Digital Media CT
Our proud involvement with this critical project (led by DMD Associate Director Matthew Worwood, Department Head Heather Elliott-Famularo, and Associate Department Head Michael Vertefeuille). Our student UX Researcher, Natalie Lacroix, continues to offer her expertise in web design and development to the success of this effort. The DX Lab launched the website in 2019, and there's so much more to come!
Visualizing Landscapes (AR Application)
We're especially excited about this one. Student staff members Mahnoor Afteb and Matthew Mullin are working with Dr. Mariana Fragomeni from the Department of Plant Science and Landscape Architecture to prototype an Augmented Reality PWA that will help Landscape Architecture students visualize their landscape designs real-time. This project is still in its preliminary stages and will be continued through the Summer of 2021.
Sourcery
The Sourcery project at Greenhouse Studios continues to roll along with the addition of new partners, Northeastern University Library and the Folger Shakespeare Library. With the support and guidance of these partners, the Sourcery team will begin developing an institutional version of the application that will allow partner institutions to digitize and streamline their workflows for delivering reference copies of documents to their patrons. Brian Daley and Alex Mueller (BFA '22) will continue in their roles, driving the development and design of this latest iteration of Sourcery.
Organizational Updates
This isn't super easy to understand (even for us), but let's see if I can explain it.
Our three directors (Daley, Salisbury, Vertefeuille) have teamed up with UConn COR2E to launch the Digital Experience Group. This sibling to the DMD DX Lab is the logistical and operations center — our "hung shingle," if you will — through which we've made our combined research output available for hire. Now, through this new group, the DX Lab can offer our skills and expertise to the myriad valuable research initiatives taking place across the University.
Because of this new partnership, we've met countless new partners, made important hires, and continue to keep the lights on as we further the DX Lab's mission with every project we take on. The DX Group will announce our first two full-time hires, as well as partnerships with UConn's VPR and Health Center, during Summer 2021.
We'll keep updating this page as work continues through 2021, but we wanted to share our updates with anyone who might be interested. Feel free to contact us if you have any questions!
---